Looking forward for Orion Event in Montreal, heard a lot about it and exited to share my music visions with Canadians.
I will be staying in Ottawa before event, so if somebody is around – would be pleasure to connect.
https://www.facebook.com/events/401450883398460/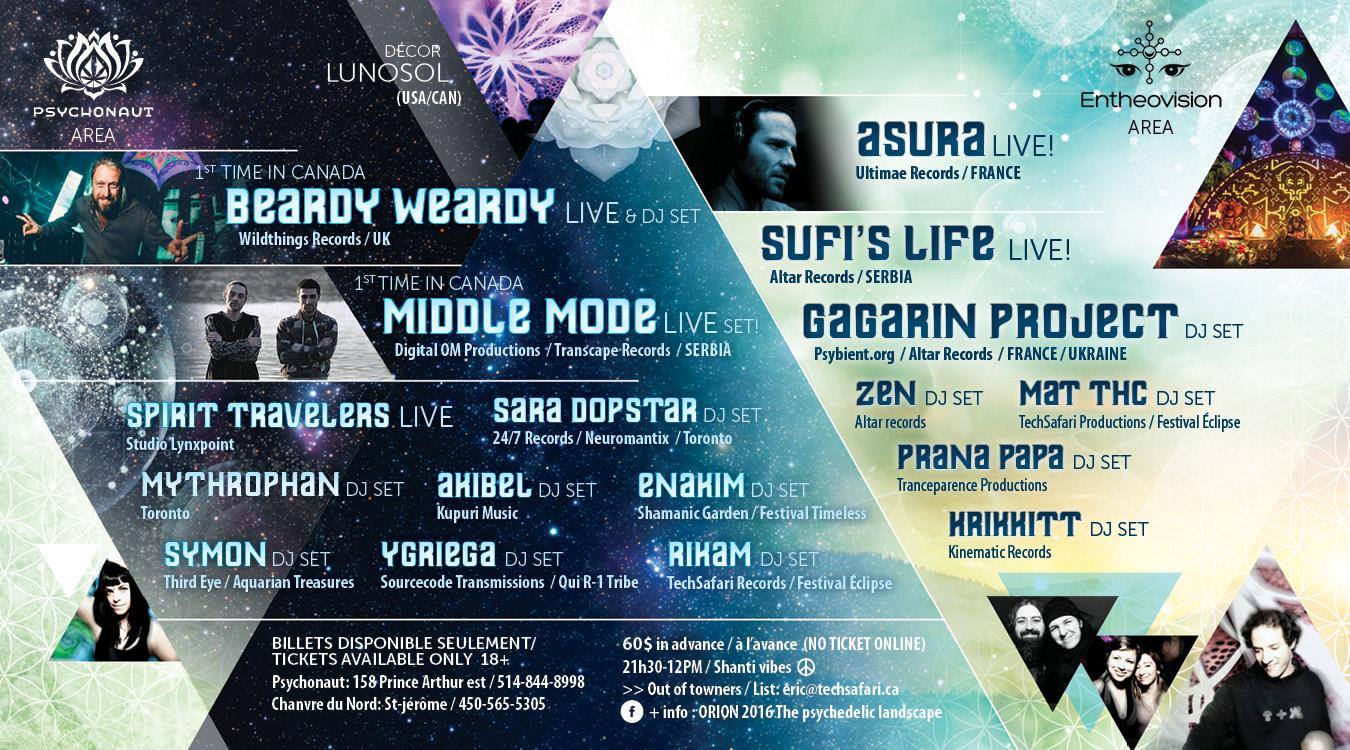 ☆ ORION 2016 ▲ THE PSYCHEDELIC LANDSCAPE ☆
By Psychonaut and TechSafari Records!
ॐ▲ψ ☼☆☾♥☽☆☼☀▲ॐ☮
(english will follow)
L'événement du jour de l'An Orion 2016 déménage à l'extérieur de Montréal et sera célébré à l'ancienne dans la salle de la Cabane à sucre Dinelle, à Saint-Rémi sur la Rive-Sud de Montréal, là où avait eu lieu la première fête de transe Goa Émergence en 1995!
Que de souvenirs depuis ce premier événement qui a marqué le night life montréalais! Bref, la salle est située à 45 minutes du centre-ville de Montréal avec un grand stationnement pour 300 voitures à 100 pieds de la porte d'entrée. L'établissement fera la vente de boissons alcoolisés sur place jusqu'à 3AM (18+).
Des informations seront publiées bientôt pour ceux et celles qui seraient intréressés à prendre l'autobus à partir du centre-ville de Montréal. Le ou les autobus partiront le jeudi 31 décembre à 22 h et sera de retour le lendemain matin vers 10 h. Le prix du billet pour le transport en autobus sera confirmé sous peu. Sinon , consulter le groupe officiel pour le covoiturage:
https://www.facebook.com/groups/355133921331932/?fref=ts
The Orion 2016 New Year's Eve event will take place in the suburbs of Montreal: in Saint-Rémi, on the South Shore, at the Dinelle sugar shack, where the very first Goa trance Émergence party was held in 1995! So many memories since this first event, one which changed Montreal's night life!
The new Orion location is 45 minutes from downtown Montreal and boasts a large parking lot for 300 cars 100 feet from the door. Information will be available soon for those who wish to take a bus from downtown Montreal. The venue will sale the alcoholic beverages at the event until 3AM (18+). The bus (or buses if need be) will leave Thursday night December 31th at 10 PM and come back in Montreal the next morning at around 10 AM. Bus-ticket prices will be confirmed soon. You can also refer to the official group for carpooling: https://www.facebook.com/groups/355133921331932/?fref=ts
__________________
ॐ ESPACE PSYCHONAUT ☆
Décor par LUNOSOL (USA/CAN)
1st time in Canada:
● BEARDY WEARDY LIVE + Dj set
Wildthings Records/ UK
soundcloud.com/beardy-wildthings-recs
www.wildthingsrecords.co.uk
1st time in Canada:
● MIDDLE MODE LIVE!
Digital OM Productions // Transcape Records // Serbia
https://www.facebook.com/MiddleModeMusic/?fref=ts
soundcloud.com/middle-mode
● SPIRIT TRAVELERS LIVE
Lynxpoint Studio / CAN
https://www.facebook.com/Spirit-Travelers-1696701687215889/?fref=ts
soundcloud.com/spirit-travelers
● AKIBEL Dj set
Kupuri Music
https://www.facebook.com/DjAkibel/?fref=ts
● ENAKIM Dj set
Shamanic Garden / Festival Timeless
https://www.facebook.com/djenakim/?fref=ts
● MYTHROPHAN Dj set
Toronto
https://www.facebook.com/mythrophan?fref=ts
● RIKAM Dj set
TechSafari Records / Festival Éclipse
https://www.facebook.com/DjRikam/?fref=ts
● SARA DOPSTAR Dj set
24/7 Records / Neuromantix // Toronto
https://www.facebook.com/saradopstar?fref=ts
● SYMON Dj set
Third Eye // Aquarian Treasures
https://www.facebook.com/Symon-aka-Psymon-227707580757852/?fref=ts
● YGRIEGA Dj set
Sourcecode Transmissions // OUI R-1
https://www.facebook.com/Dj-Ygriega-173729339379186/?fref=ts
_____________________________
▲ ESPACE ENTHEOVISION ♥
ASURA LIVE!
Ultimae Records // France
https://www.facebook.com/ASURA-106457240133/?fref=ts
SUFI'S LIFE LIVE
Altar Records // Serbia
https://www.facebook.com/SufisLife/?fref=ts
GAGARIN PROJECT Dj set
Psybient.org // Altar Records // France / /Ukraine
https://www.facebook.com/gagarinproject/?fref=ts
KRIKKITT Dj set
Kinematic Records
https://www.facebook.com/krikkitt/?fref=ts
MAT THC Dj set
TechSafari Productions / Festival Éclipse
PRANA PAPA Dj set Québec
https://www.facebook.com/PranapapaDj/?fref=ts
ZEN Dj set
Altar Records
https://www.facebook.com/ZenAltarRec/?fref=ts
●●●●●●————————————-●●●●
BILLETS DISPONIBLE SEULEMENT:
TICKETS AVAILABLE @ 60$
Psychonaut / 3624 A Boulevard St-Laurent Montréal / 514-844-8998
Chanvre du Nord / St-jérôme / 450-565-5305
(NO TICKET ONLINE)
● Kiosque (nourriture et boissons) par le Salon Enchanté
● Massage par ZENERGICA
● Bar avec Alcohol (18+) jusqu'à 3AM
◉ No cans or bottle ◉
►►No smoking inside ►►
►►Shanti Vibes only ►►
◉◉◉◉◉ ॐ P.L.U.R .ॐ ◉◉◉◉◉
—>> TICKETS / OUT OF TOWNERS / List:
please contact [email protected]
LIEU // VENUE
Cabane à sucre dinelle (22h00-12PM)
Permis d'alcool jusquà 3AM!
St-Rémi / Quévec (35 minutes du centre-ville de Montréal
18+ / ॐ P.L.U.R ☯
●●●●—————————————●●●●